The financial system is evolving fast, and digital currencies are gaining more acceptance, but then, even as the crypto world is eating deep into the financial system the knowledge of cryptocurrency, forex, and blockchain technology is far stretched.
A lot of people don't really understand how it works, but yet they use it, whereas others are yet to accept it.
According to crypto statistic, the total number of crypto users as of 2018 shows that Cryptocurrency gained 17 million "verified users".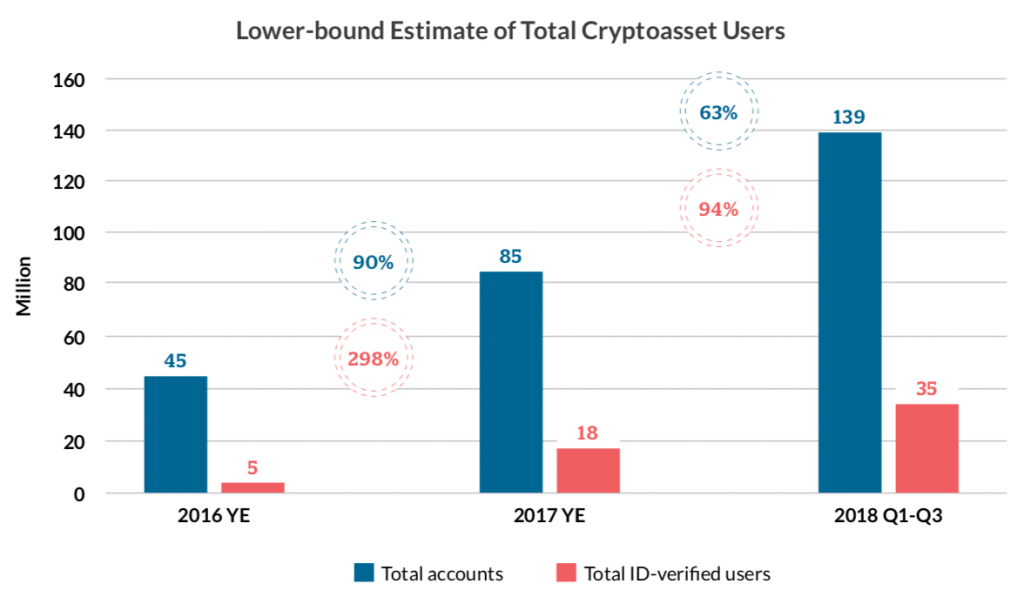 According to the study, data show that in the first three quarters of 2018 the number of ID-verified cryptocurrency users nearly doubled, climbing from 18 million to 35 million.
According to a Bloomberg analysis of the study, the growth of the user base this year while crypto markets decline "could signal that an eventual recovery could become." The analysis further notes that "most users are likely still speculators and long-term investors."
The Bull Network Organization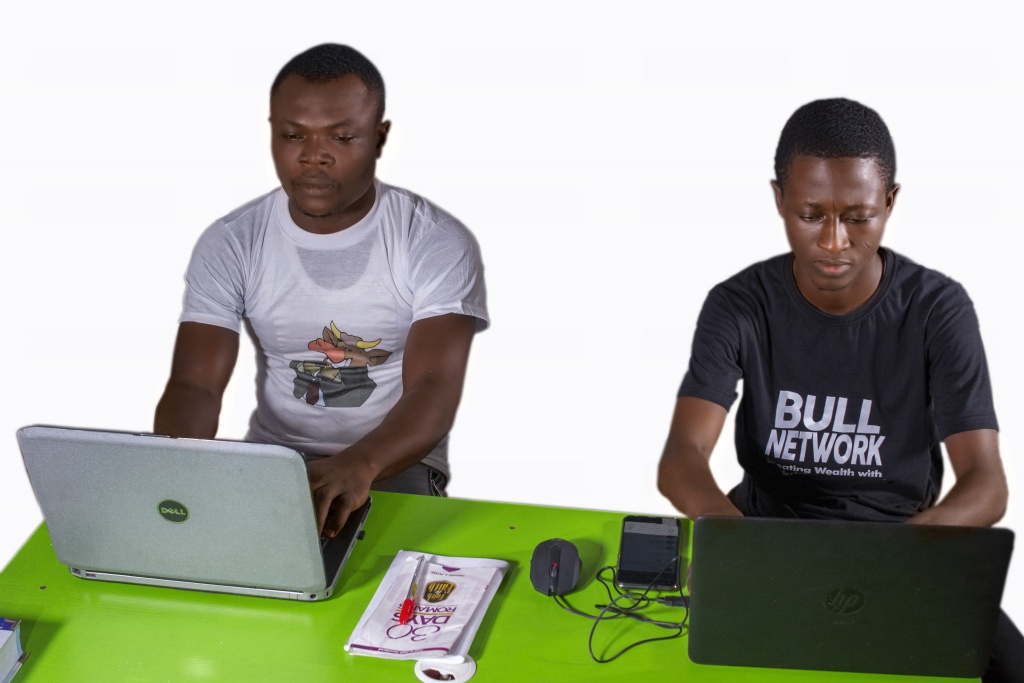 The Bull Network Organization has come to enhance the acceptance of cryptocurrency by sharing their knowledge and expertise and also creating an avenue where people can slowly get into the game without the fear of loss or a lucky guess.
Through the Bull Network Community, the organization is going to position their self as the knowledge hub for everything cryptocurrency that will foster the adoption of cryptocurrencies and as well help a lot of newbies in the industry access wealth creation opportunities.
Who is the Founder of Bull Network Organization
The fountainhead of the Bull Network Organization is Johnmiracle Ejikeme (AKA, DaddyBull). He says: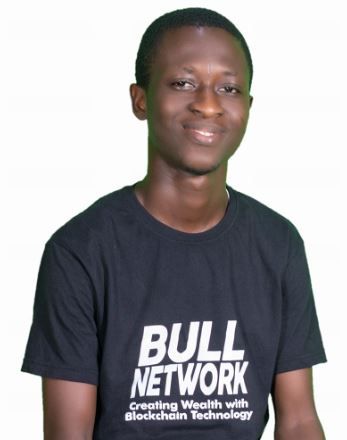 Throughout human history, people have been making transactions. Currency has evolved over the years in the form of shells, beads, jewelry, coins, and most recently, fiat money. Fiat money is what most people nowadays are used to. It offers significant benefits over its predecessor in terms of being relatively easy to transport and easily measurable. However, fiat money is not without its limitations — it can be subject to volatile inflation, particularly under the control of unstable governments; it can be inconvenient to use when traveling between countries; it can be counterfeited and it can be stolen relatively easily. Cryptocurrency solves these problems: it is based on a decentralized blockchain that keeps inflation under control by design; it can be easily accessed from any location; each transaction is verified by multiple computers around the world, and each wallet is guarded by a highly secure private key. By addressing head-on the flaws of fiat money, cryptocurrency is emerging as the next phase in the evolution of money.
The Vision
Bull Network Organization vision is to become the company creating solutions for everyday people with a special focus on Africans, solving real-life problems using the BLOCKCHAIN TECHNOLOGY through our utility token called "BULLCOIN".
The Mission
To empower Africans towards financial stability through the creation of opportunity oriented and blockchain-powered applications while leading blockchain innovation in Africa.
What are the Products of Bull Network Organization
Bull Network Organization has a lot of several products. Hence, we will discuss the top products they offer, and they are:
Bull Network Community
Bullcoin (BCX)
Upcoming Bull Capital Investment
So, let take a brief look at their top products one after another for more clarification.
Bull Network Community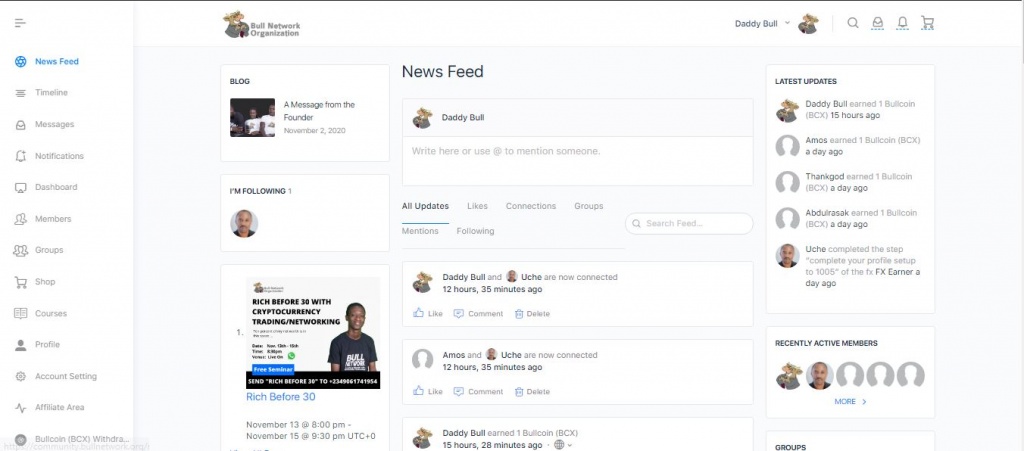 Bull Network Community is the first conceived idea to be worked on in the Bull Network Organization, though not the first to be launched to the public.
The Bull community has a great potential to reach and transform many lives of people across Africa and beyond the right knowledge to everything cryptocurrency and opportunity to trade them for serious profit.
The Bull Network Community is more like social media platforms but it comes with an inbuilt marketplace and an academy that will take care of the followings:
Provide education and full review Bitcoin and other top growing Altcoins.
Teach how to invest and trade cryptocurrencies profitably and individually.
Provide necessary requirements and other tools to facilitate the learning process.
We go a long way in providing other top high-income skills to the bull community members.
Will create an avenue for their members to leverage the community direct and make wealth for themselves.
Bullcoin (BCX)

The bullcoin (BCX) is a native token of the Bull Network Organization and it was created as a TRC-10 token and minted on the Tron Blockchain with a total supply of 2 billion tokens.
Bullcoin (BCX) will serve the two purposes:
A utility token for the Bull Network Organization products at large
A reward token for tasks on the Bull Network Ecosystem
It will be used in the purchase payment of goods and services on any of the Bull Network Products and future solutions.
This will be the most relatable and useful cryptocurrency in Africa.
Bullcoin will be a tradeable token both within internal and external markets and can be exchanged for profit or any other cryptocurrencies.
Bull Capital Investment
We have simplified investment, making it possible for you to invest in forex, cryptocurrency, agro, real estate online, and for as low as $15. And also to provide room for staking of bullcoin to prevent it from being dumped totally.
Conclusion
The purpose of Bull Network Organization is to build wealth through blockchain technology and to provide room for financial freedom, and education of what and how to utilize blockchain, defi, cryptocurrency, and forex.
You should be part of this movement.